Trinug Meetup - Building Serverless APIs with Azure Functions with Josh Carlisle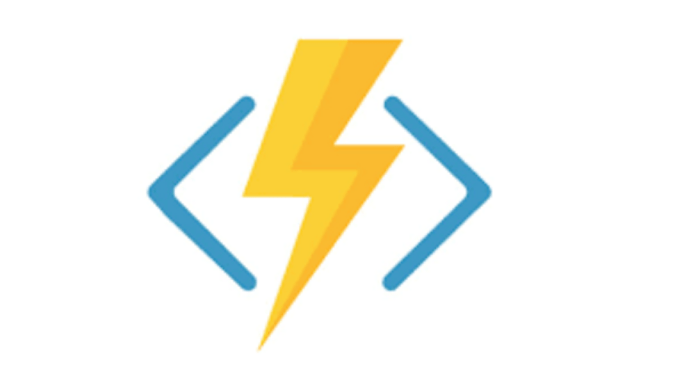 My notes from the April 11th meeting of TriNug. I don't go to many TriNug events, but the topic for this one was too close to where I want to go with services and jobs at work… If it runs in less than 5 minutes and we can do it in C# or Java, then function should be the first option - not the last.
I have done minimal cleanup - consider this live noting.
---
Benefits of Azure Functions
There really are servers with serverless - you just think about the servers… less Ha!
Shorten development cycle from weeks or months to configure a box to a few minutes.
Scale apps and instances dynamically with load. Possible with IAAS and PAAS, but functions do this by definition.
Because the functions end they are more cost-effective. Only pay for what you use. Fractions of pennies at low volumes, but at a certain point they may be more expensive than a full VM. Essentially functions are using the spare compute at the data center.
Ideal target is variable use, infrequent use routines.
Overview of Azure Functions
Building the App
Add a function app to a resource group
App name becomes the root for the endpoint

Name is global within Azure, but you can pipe your custom domain

Consumption vs App Service Plan

Consumption is auto-scale
App Service is consistent (CPUs, etc are set)

Azure functions require Azure storage

Can come down to zero instances
Must have storage for the app to live (logs and so on too)

Use Applications Insights - just do it, there is a free tier
Can be done in the portal or using an ARM template, CLI, Powershell, whatever
Can use the editor window within the app - but don't for real projects

use your own editor and source control etc

Publish source code, compile in the function.
Function.json is what defines the function

Triggers only one per function

File dumped to blob
API trigger
Cue
Messages
etc

Output - can be multiple
Azure Functions Development Experience
Languages

C#
Javascript - Node
F#
Soon

Java, Experimental, PHP, Powershell, Python

Local Dev support with a runtime Azure Functions CLI (same runtime as production)

Does not scale
Great for dev and make sure dev will run on production
Runs on .Net 4.0

VST (better for C#)
.Net Core support in preview - opens support for linux and Mac local run runtime
Anatomy of a Function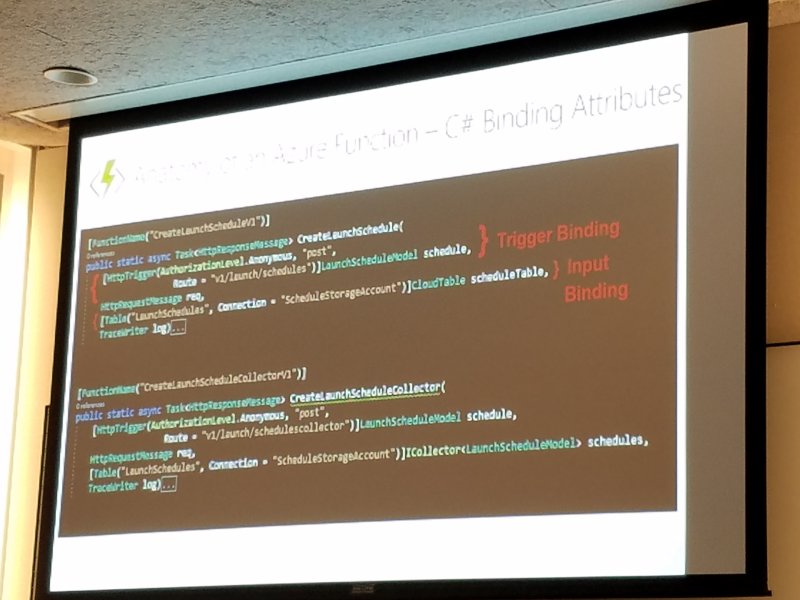 Trigger Binding and Input Binding in C#
Keep in mind keys, if public then anybody can hit the endpoint
Basic Azure Functions with VS
Designate the route within the trigger binding (endpoint)
Azure Table storage - simple, cheap, easy Functions talk directly to table storage, define it as the output variable Can bind the table directly to the function. No extra coding needed (in C#)
In general - use the bindings for function. Saves dozens of lines of code. for instance Icollector or AICollector
Visual Studio Support
Must be 2017
Must have cloud workload extension
Need Azure Functions and Web Jobs Tool Kits
In VST there are preset templates Some default Triggers like Timer etc
Trick - Azure Storage Explorer App
API development - Postman App (post and get from API's without writing custom code)
Azure Functions Architecture Considerations
Be aware of down stream data storage
Be aware of long-running functions (more than 5 minutes)
Ensure your functions are doing small amounts of work
Breakdown large input files by a smaller number of rows
Queues that are implemented in at front end may impact the traditional request flow
Lots to orchestrate? Consider Durable Functions. Logic controller and flow controller.
The proxies act as an interaction layer for the API
Prevents hardcoding for the API
Prevents inconsistencies in the API syntax if using multiple technologies (function vs logic app vs…)
Speaker Contact Info
Written on April 11, 2018